I have been a professional fishing guide for over 16 years. There are few things I like better than escorting family and friends down the river to catch the fish of a lifetime. The rewards I experience from river guiding are two fold.  First,  and most importantly, is assisting a fly-fisherman and educating them about all facets of fly-fishing.  Second, and most importantly, is to supply them the best opportunity at a trophy fish while providing a great and safe experience on the river. My love for the Pere Marquette River started in 1991 when I started frequenting the area. As a result, I now have the privilege to own and operate the Red Moose Lodge and Cast Away Guide Service.
My businesses started in 2003 with the support of my wife Debi and son Adam and haven't had one regret. I have been coming  to the Baldwin area since 1985 and have a vast knowledge of the snowmobile and motorcycle trails, hunting, and fishing for anything that swims. Included with my knowledge of the Pere Marquette River from M-37 to Lake Michigan, I also have experience and guide on the Manistee, Muskegon and White rivers as well.
I'm a Orvis Endorced Flyfishing Guide, have all State and Federal licence's to guide those rivers, am fully insured, and I am also certified in First Aid/ CPR. I have been tying flies and fly fishing the PM, and many other rivers, for over 28 years. I invite you to book a trip and spend some time on the water with me. It will be a great day on the river!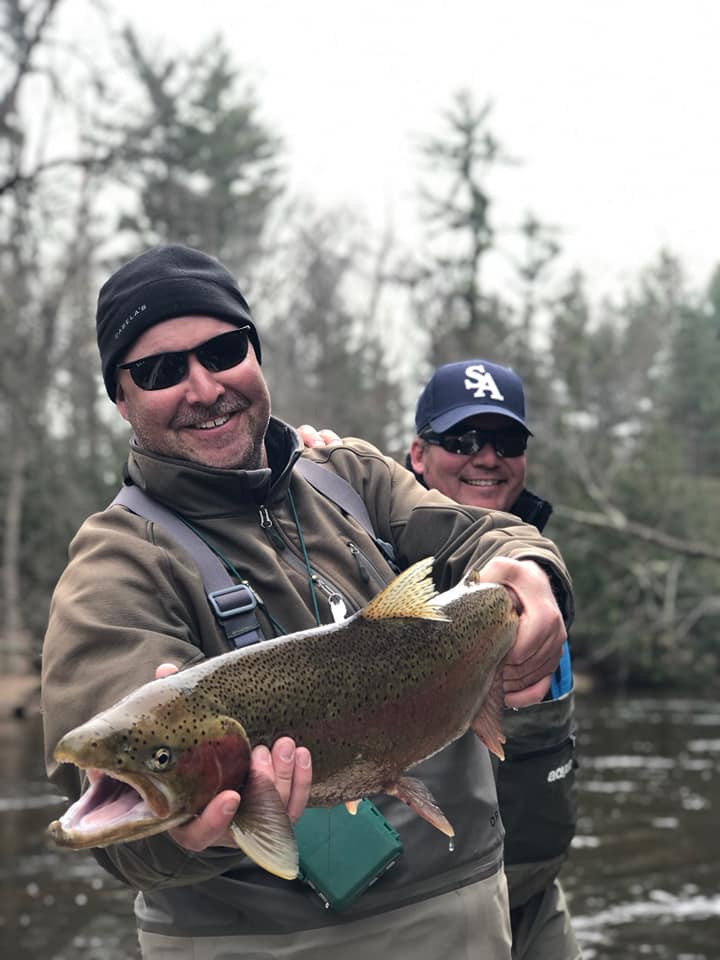 I specialize in the Fall fishing for Salmon and Pike with spin gear. It is my favorite way to catch a Salmon.They Smash Them Lures and try to rip the rod out of your hand. August 15th through October 7th are good dates for these method.
Hotshotting or Backdropping plugs for Steelhead is another way I offer for those not wishing to flyfish for Steelhead. This is a very laid back way to fish for them and very effective. October 15th through March 30th are good dates for these method.
There are two different boats to fish from. The first is a 16′ 2015 Clacka Craft (McKenzie style drift boat). It is a safe, comfortable and durable river boat and a first class ride down the river.
The second is a 17 ft. 2008 Power Drifter with a 65 HP Jet.The power drifter is well equipped for both fly fishing or hot shotting plugs. It is also a very safe and nice boat to fish from.